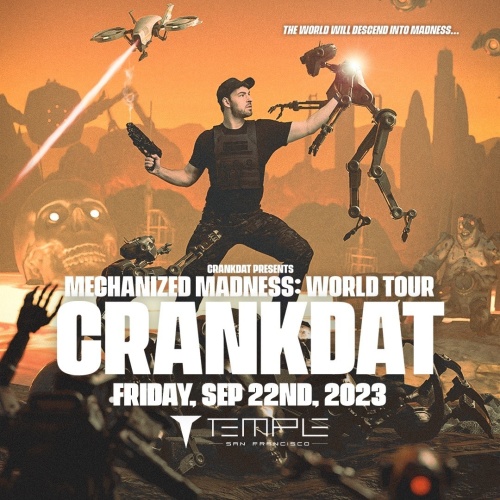 Temple Nightclub
540 Howard StreetSan Francisco CA, 94105
Get Directions
Friday, Sep 22, 2023 @ 10:00pm
Crankdat
Event Description
Gear up. It's what fuels the Crankdat project to its very core and embodies what 22-year-old Christian Smith isinspiring others to do on a daily basis. In just a few years, the multi-faceted Ohio-based artist has amassed nearly aquarter of a billion total streams, toured 4 continents and has played hundreds of shows — more than a dozen ofwhich reside in Las Vegas where he holds a Hakkasan Group residency. His originals and remixes dominate thefestival circuit with heavy rinsing from Marshmello, DJ Snake, The Chainsmokers and many more. Beyond producingand DJing, though, Smith is a true creative. From designing his own artwork to animating and executing his own liveshow visuals, the Crankdat experience is coming from none other than the creator himself. He is the physicalembodiment of what he preaches, having an independent mindset and self-starter mentality that encourages hardwork, dedication and perseverance.
Purchased tickets grant access to both events happening at Temple SF in the main room and LVL 55 downstairs.
- 1 Ticket
- 1 Price
- 2 Clubs!
Temple SF is a 21+ venue.
For VIP / Bottle Service, please contact: [email protected]
DRESS CODE POLICY:
Temple Nightclub has a strictly enforced dress code. We do not permit: hats, sandals, sneakers, shorts, ripped or baggy clothing and athletic wear.
TICKET REFUND POLICY:
Temple Nightclub tickets are final-sale. No refunds or exchanges are offered.