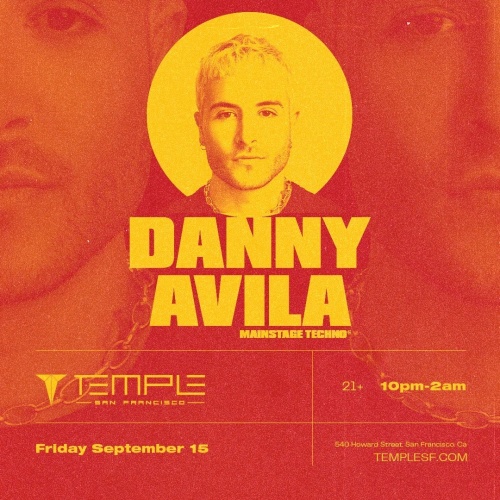 Temple Nightclub
540 Howard StreetSan Francisco CA, 94105
Get Directions
Friday, Sep 15, 2023 @ 10:00pm
Danny Avila
Event Description
Madrid's Danny Avila spins and produces a wide range of big room dance sounds, including electro-house, trance, and trap. Originally from Marbella, he started DJ'ing at the age of 12 and producing soon after. He moved to Madrid in order to become a DJ, and began spinning in the city's clubs before he was old enough to be admitted into them. His DJ skills and youthful energy caught the attention of superstar DJ Tiësto, who invited Avila to share the stage with him at Pacha Ibiza. Soon after, Avila began touring across the world withTiësto and Calvin Harris, in addition to appearing at countless major EDM festivals. DJ Magazine included Avila's Big Room Mix CD with its September 2012 issue, making him the youngest artist to record a mix CD for the publication. He released a series of singles for labels like Big Beat Records, Spinnin' Records, and Dim Mak, as well as mixing the second disc of the 2013 double CD Ibiza Calling. Residencies in Barcelona and Las Vegas followed, as Avila frequently produced episodes of his Ready to Jump podcast series. Successful remixes for tracks by Gavin James and Tiësto were released in 2017, as well as "LOCO", a collaboration with NERVO.
Purchased tickets grant access to both events happening at Temple SF in the main room and LVL 55 downstairs.
- 1 Ticket
- 1 Price
- 2 Clubs!
Temple SF is a 21+ venue.
For VIP / Bottle Service, please contact: [email protected]
DRESS CODE POLICY:
Temple Nightclub has a strictly enforced dress code. We do not permit: hats, sandals, sneakers, shorts, ripped or baggy clothing and athletic wear.
TICKET REFUND POLICY:
Temple Nightclub tickets are final-sale. No refunds or exchanges are offered.