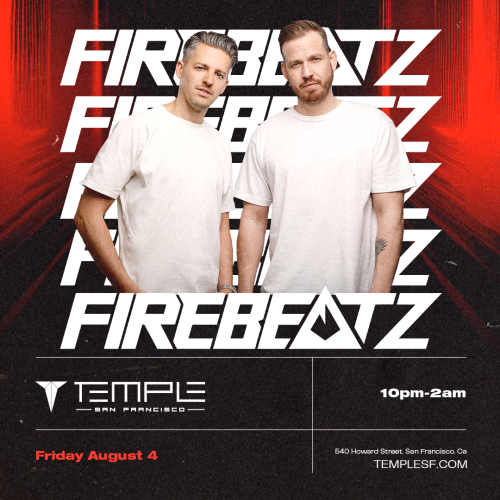 Temple Nightclub
540 Howard StreetSan Francisco CA, 94105
Get Directions
Friday, Aug 4, 2023
Firebeatz
Event Description
Firebeatz at Temple SF
Dutch electronic production duo Firebeatz comprise Tim Benjamin Smulders andJurre van Doeselaar. The musicians met while both were attending art school in the Netherlands, and bonded over their shared love of dance music. Firebeatz formed in 2008, and the pair of producers started releasing early tracks like "Speak Up" and "Hit the Dust" with a variety of guest vocalists and performers. Work continued and those early singles gave way to more widely received tracks like "Funky Shit" and "Here We Fucking Go," which grew Firebeatz's reputation in EDM circles. It wasn't long before they were getting mentioned by critics and better-known DJs, all the while releasing new music that climbed the charts. In 2013 they collaborated with both Bobby Burns and EDM superstar Calvin Harris, and also released music on Tiësto's Musical Freedom label. They went on to even greater acclaim and focused on deeper collaborations and genre crossovers, working with rappers like Snoop Dogg, Flo Rida, James Blunt, Pitbull, and many others. The duo also ventured into live performance, playing the festival circuit to bigger and bigger crowds as their fame soare.
Purchased tickets grant access to both events happening at Temple SF in the main room and LVL 55 downstairs.
- 1 Ticket
- 1 Price
- 2 Clubs!
TICKET REFUND POLICY:
Temple Nightclub tickets are final sale and cannot be exchanged or refunded. In the case of an event cancellation without a rescheduled date, a full refund will be automatically issued to each patron on the credit card used to purchase. By purchasing a ticket to this event, you agree to this purchase policy. Before purchasing your tickets, we urge you to confirm the title, time and location of the event.
DRESS CODE POLICY:
Temple Nightclub has a strictly enforced dress code. We do not permit: hats, sandals, sneakers, shorts, ripped or baggy clothing and athletic wear.
Temple SF is a 21+ venue.
For VIP / Bottle Service, please contact: [email protected]
For more information, visit: https://www.TempleSF.com