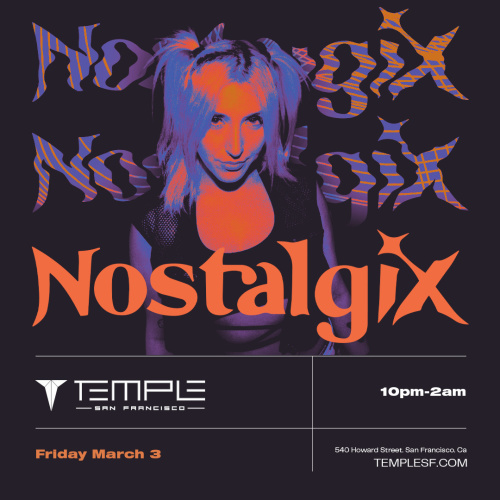 Temple Nightclub
540 Howard StreetSan Francisco CA, 94105
Get Directions
Friday, Mar 3, 2023 @ 10:00pm
Nostalgix
Event Description
Nostalgix is expressing her journey through sound. She constantly pushes the boundaries of house music by blending her sound with a variety of musical influences. After starting her career off in Vancouver at the age of 18, she quickly thrived in the local music scene gaining the respect of local Vancouver house music lovers. From her first gig at the infamous Pit Pub in British Columbia, Nostalgix proved that she was destined to take her music global. 2020 is setting up to be a massive year for Nostalgix, with major festival placements worldwide and signings on taste-making imprints such as: Dim Mak, Night Bass, Confession, In/Rotation. She was featured in DJ Mag's "12 Emerging Artists" for the month of February and was hand selected by Bijou to be the premier on his new DND Records. In 2020 and beyond, Nostalgix promises to keep pushing the boundaries of her music and sharing her journey through sound.
Purchased tickets grant access to both events happening at Temple SF in the main room and LVL 55 downstairs.
Temple SF is a 21+ venue.
For VIP / Bottle Service, please contact: [email protected]
DRESS CODE POLICY:
Temple Nightclub has a strictly enforced dress code. We do not permit: hats, sandals, sneakers, shorts, ripped or baggy clothing and athletic wear.
TICKET REFUND POLICY:
Temple Nightclub tickets are final-sale. No refunds or exchanges are offered.