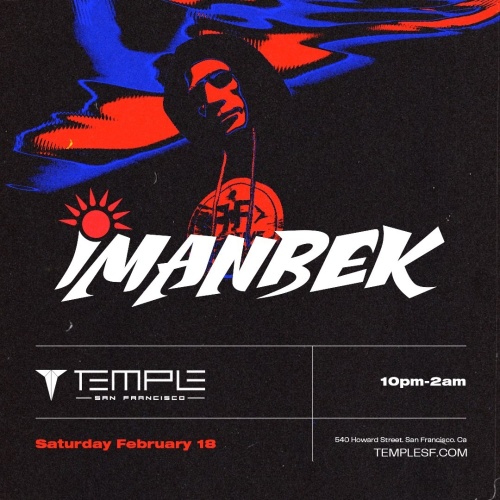 Temple Nightclub
540 Howard StreetSan Francisco CA, 94105
Get Directions
Saturday, Feb 18, 2023 @ 10:00pm
Imanbek
Event Description
Kazakh DJ and producer Imanbek's futuristic dance-pop tracks are bright and hook-filled while exploring dark lyrical themes. The artist shot to attention with his 2019 remix of SAINt JHN's "Roses," which became an enormous viral hit and was certified platinum in over a dozen countries. Since then, the producer has released additional collaborations with several artists including Usher, Marshmello, Tory Lanez, and Rita Ora (2021's Bang EP).
Imanbek Zeikenov was born in Aksu, Kazakhstan in 2000, and started playing guitar when he was eight. He began producing electronic dance music in 2017, and was all but unknown before he remixed Guyanese-American rapper SAINt JHN's 2016 single "Roses." Officially released three years after the original version of the song, Imanbek's club-friendly remix exploded in popularity, partially due to exposure through TikTok, where it received over four billion plays during a single month (April 2020). The track topped the charts in several countries, including Australia, Canada, and the U.K., and reached number four on the Billboard 200, eventually earning a Grammy nomination for Best Remixed Recording. A second remix of the track appeared, featuring a guest verse by J Balvin.
Imanbek continued releasing material at a prolific rate throughout 2020, including the solo single "Dope" (on Spinnin' Records imprint Dharma Worldwide) and collaborations with Tory Lanez ("Blackout"), Afrojack and Gia Koka ("Hey Baby"), and Marshmello and Usher ("Too Much"), among many others. In 2021, Imanbek collaborated with Rita Ora on a four-song EP titled Bang. Its lead single, "Big," additionally featured rapper Gunna and EDM megastar David Guetta.
Support by D-Rollz.
Purchased tickets grant access to both events happening at Temple SF in the main room and LVL 55 downstairs.
Temple SF is a 21+ venue.
For VIP / Bottle Service, please contact: [email protected]
DRESS CODE POLICY:
Temple Nightclub has a strictly enforced dress code. We do not permit: hats, sandals, sneakers, shorts, ripped or baggy clothing and athletic wear.
TICKET REFUND POLICY:
Temple Nightclub tickets are final-sale. No refunds or exchanges are offered.