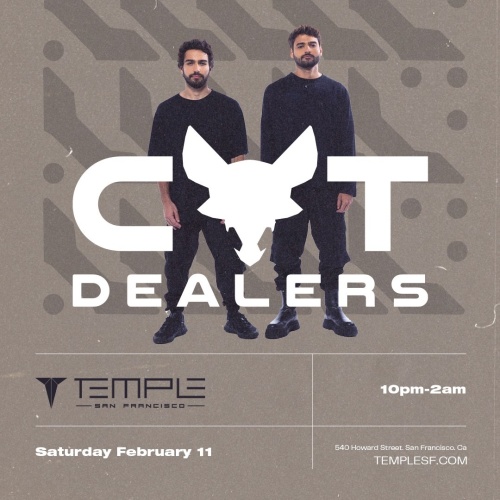 Temple Nightclub
540 Howard StreetSan Francisco CA, 94105
Get Directions
Saturday, Feb 11, 2023 @ 10:00pm
Cat Dealers
Event Description
Formed by the brothers Lugui and Pedrão, Cat Dealers is one of the hottest DJ/Producer acts out of Brazil today. In 2019, the duo was voted number 46 in the Top 100 DJs poll by British magazine DJ Mag, climbing 2 positions from last year's placement, and rising now overall for the third straight year.
The Brazilian duo is the star of big festivals like Lollapalooza, Rock In Rio, Ultra Brasil, Festival de Barretos 2018 and electronic parties like Kaballah, Só Track Boa and Rio Music Carnival alike. In 2018, Cat Dealers was the special guest act in Shakira's tour in Brazil. They were also one of the main acts in the 2018 Copacabana New Year's Eve Party, their biggest audience so far, with more than 1M people celebrating.
The impact of Cat Dealers online has similar potency, staking claim to the second largest channel of the Brazilian electronic scene on Youtube. There, Cat Dealers has more than 750,000 subscribers and over 270 million plays, as well as millions of streams on Soundcloud, Spotify, Deezer and other streaming platforms.
In 2019, the Cat Dealers and Nicky Romero were headliners at one of the biggest clubs in the world, Laroc Club. Tickets sold out within five hours. Internationally, the brothers have already played in five continents, including venues in The United States, China, Japan, South Korea, Mexico, Australia, South Africa, Ireland,Thailand, Vietnam, Myanmar, Italy, Portugal, Poland and Spain, where they opened for David Guetta at the Medusa Festival 2018.
As for the music, "Your Body," was the first major hit, released in March 2016, has more than 100 million views on YouTube. In addition, several other hits have already been produced by the brothers, such as "Gravity", in collaboration with Evokings and Magga, which has already passed the mark of 42 million streams on Spotify, ranking fifth in the Brazil Viral 50 and 28th in the GlobalViral50. Their third single, "Sunshine", has already surpassed 50 million streams on Spotify alone andentered as number #75 in the Top 200 Brazil and #25 in the Top 200 Poland. The hit "Ai AiAi", official remix of Vanessa da Mata, produced in a partnership with Felguk, entered Brazil Viral 50.
Purchased tickets grant access to both events happening at Temple SF in the main room and LVL 55 downstairs.
Temple SF is a 21+ venue.
For VIP / Bottle Service, please contact: [email protected]
DRESS CODE POLICY:
Temple Nightclub has a strictly enforced dress code. We do not permit: hats, sandals, sneakers, shorts, ripped or baggy clothing and athletic wear.
TICKET REFUND POLICY:
Temple Nightclub tickets are final-sale. No refunds or exchanges are offered.