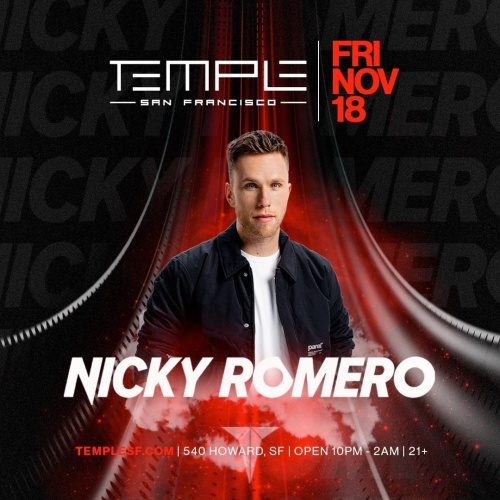 Temple Nightclub
540 Howard StreetSan Francisco CA, 94105
Get Directions
Friday, Nov 18, 2022 @ 10:00pm
Nicky Romero
Event Description
Nicky Romero has progressed from being a young musical wunderkind to becoming one of the most influential artists of his time. As a DJ, producer, and mogul whose label is at the forefront of modern electronic dance music, it goes without saying that Nicky is a force to be reckoned with. Nicky's resume boasts an impressive and lengthy discography of originals, remixes, edits, and co-productions, proving, again and again, his ability to evolve with the ever-changing landscape of electronic music. He has created remixes for Afrojack, Armin van Buuren, David Guetta, Martin Garrix, Jess Glynne, Kygo, Rita Ora among others and has collaborated with Armin van Buuren, Dimitri Vegas & Like Mike, David Guetta, Steve Aoki, W&W and more.
On the production and technology side, Nicky launched his Kickstarter plugin to add instant sidechain compression to any track for any artist who wants to take their music to the next level. Perhaps even more telling of his razor-sharp prowess and visionary mindset is the success and impact of his label Protocol Recordings, which has continued to release new music from cutting-edge artists and find ways to connect with listeners throughout the global pandemic.
In the late 2000s, EDM was having its heyday, and Nicky Romero was deeply ingrained in the movement that would become one of the most significant cultural resurgences in decades. After releasing several singles early in his career, Nicky officially had his breakthrough moments with the viral anthem "Toulouse" and "I Could Be the One" (vs. Avicii), which to date has amassed over 300 million streams on Spotify alone. Nicky's meticulous skill as a producer led him to co-producing with legendary artists, both on Rihanna's hit "Right Now" and Britney Spears' "It Should Be Easy" as well as releasing on major labels such as Universal Music. These early successes served to pave the way for the founding of Nicky's own label, Protocol Recordings.
Protocol Recordings is a place of camaraderie between forward-thinking artists, always daring to break the mold through innovative sounds. The imprint is celebratingits 10th birthday this yearand emerged into the new decade as a truly multi-faceted household name in electronic music, complete with a diverse list of artists, a radio show with over 40 million listeners each week, and five cutting-edge production studios (Instigate Studios). Additionally, Protocol has been expanding their showcases with events at Chroma Club in Seoul, South Korea; Bone Club in Pattaya, Thailand; ORA Nightclub in Miami,London's Ministry of Sound and hosted their own stage at Medusa Festival in Spain and Hungary's Balaton Sound, to name a few. Expect more cutting-edge new music and exciting concepts coming very soon!
Nicky has taken great interest in the intersection ofmusic and technology, which took both industries by storm and shows no signs of slowing down. With most live events on pause in 2020-2021, Romero provided an immersive experience to his fans via his "Another World" live stream concept in summer 2020, which was followed by the launch of his side-project Monocule in the same year. In 2021, he partnered with virtual streaming platform theCLUB.tv for a live stream set that utilized augmented reality to place fans at the heart of the gig. He also hopped on the NFT train by releasing his own "Behind the Mask" token in partnership with Visual Labs and Eternity Chain and even performed for the Call of Duty League's kickoff event in the UK.
Whether it's via new music, expanding his label, or exploring technologicaltrends to deliver the best experiences for his fans, Nicky Romero always has something up his sleeve. Stay tuned to see what's next for him and the rest of Protocol Recordings in 2022.
Purchased tickets grant access to both events happening at Temple SF in the main room and LVL 55 downstairs.
Temple SF is a 21+ venue.
For VIP / Bottle Service, please contact: [email protected]
DRESS CODE POLICY:
Temple Nightclub has a strictly enforced dress code. We do not permit: hats, sandals, sneakers, shorts, ripped or baggy clothing and athletic wear.
TICKET REFUND POLICY:
Temple Nightclub tickets are final-sale. No refunds or exchanges are offered.