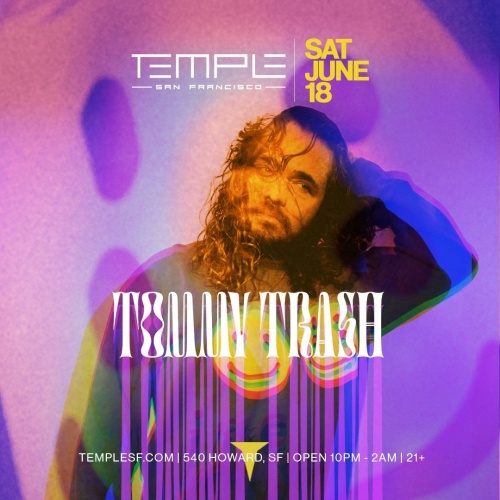 Temple Nightclub
540 Howard StreetSan Francisco CA, 94105
Get Directions
Saturday, Jun 18, 2022 @ 10:00pm
Tommy Trash
Event Description
Tommy Trash debuted in 2006 and quickly emerged as a high-profile electro-house DJ and producer through a steady supply of remixes and his own releases. In 2006, the native of Queensland, Australia, along with Goodwill, remixed Sugiurumn's "Star Baby," but 2007 was a breakout year for Trash. Signed to Ministry of Sound Australia, he released a handful of singles -- some of which were collaborations with Goodwill, as well as with Tom Piper -- and remixed tracks by the likes of Green Velvet, the Veronicas, and Armand Van Helden. He also mixed the first volume in Ministry of Sound's Electro-House Sessions series. His 2008 was as prolific, and 2009 was a banner year that culminated with an ARIA Award nomination in the category of Best Dance Release (for "Need Me to Stay"). As he continued to release his own work on Ministry of Sound, Dim Mak, and Fool's Gold, he also maintained his remarkable amount of remixing duties. Moby, Zedd, Timbaland, and Swedish House Mafia released his work. "Reload," a collaboration with Sebastian Ingrosso, was released in September 2012 and eventually worked its way to number three on the U.K. singles chart (as well as number four on Billboard's Hot Dance Club Songs chart). That same year, he earned a Grammy nomination for his remix of Deadmau5's "The Veldt." In 2014, he produced the track "Mr. President" on Kylie Minogue's album Kiss Me Once, while 2015 saw him release the single "About U" with BURNS. The hard-hitting "Louder" -- a collaboration with Kill the Noise and R. City -- was issued the same year. "Wake the Giant" with JHart followed, along with two remix EPs. Before the year's end, Trash released the three-track Luv U Giv EP. In 2016, singles like "Bird Alert," Lose My Mind," and "IOUE" preceded the Group Chat EP, which featured contributions by Moosh & Twist, Jesse Boykins III, A-Trak, Gladiator, Kittens, and Tommy Lee Sparta. The bright anthem "Dreamer" (featuring DENM) arrived in 2017.
Purchased tickets grant access to both events happening at Temple SF in the main room and LVL 55 downstairs .
Temple SF is a 21+ venue.
For VIP / Bottle Service, please contact: [email protected]
TICKET PROCEEDS DONATION (@WHENTHEMUSICSTOPS):
Temple SF will be donating $1 from every ticket sold to 'When The Music Stops'.
When The Music Stops is a community of music lovers that support mental health and suicide prevention through education, music, connection, and love. Their focus for 2022 is to continue growing, while building supportive communities that further their mission and help prevent suicide.
Follow: @whenthemusicstops | Donate via Venmo: @whenthemusicstops
TICKET REFUND POLICY:
Temple Nightclub tickets are final-sale. No refunds or exchanges are offered.