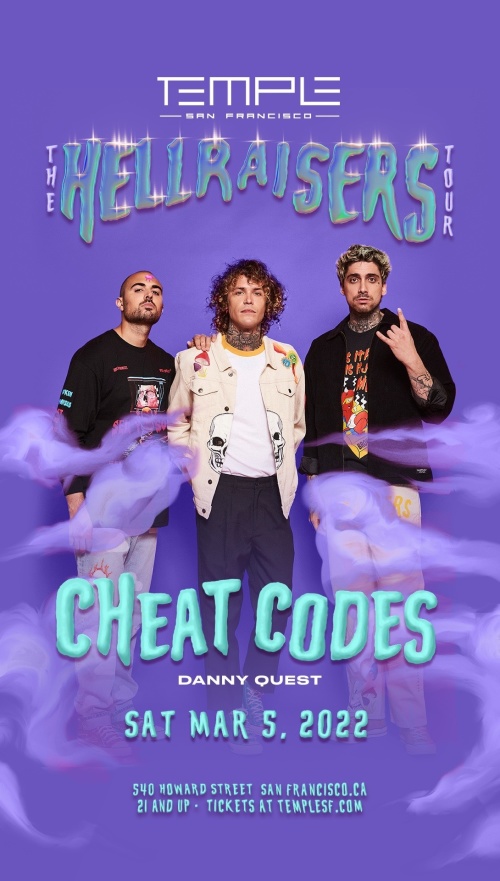 Temple Nightclub
540 Howard StreetSan Francisco CA, 94105
Get Directions
Saturday, Mar 5, 2022 @ 10:00pm
Cheat Codes
Event Description
Cheat Codes is an American electronic music DJ trio. Consisting of KEVI (Kevin Ford / Prince$$ Rosie), Trevor Dahl, and Matthew Russell based in Los Angeles, the group is notable for their 2016 single "Sex", which samples the chorus from "Let's Talk About Sex" by Salt-N-Pepa, and their 2017 single "No Promises", which featured American popstar Demi Lovato and peaked within the top 40 of the US, UK and Australia. The track was certified Platinum by the RIAA.
Prior to the 2014 formation of the trio, Trevor and Matt lived together and later wrote and recorded music with Kevin. Their name was inspired by Kevin's brother who told him that he had found the "cheat code" to getting anything he wanted in life. "We really embody the idea that anything is possible. To us, the real 'cheat code' to life is loving what you do and we hope to convey that energy through our music," they said in an interview.
In 2015, they released their debut single titled "Visions", which reached number one on the Hype Machine chart. It was followed by the singles "Don't Say No", "Senses", and "Adventure". "Adventure" reached number three on the Hype Machine chart. The group gained over 15 million views on YouTube and later toured with The Chainsmokers.
Temple SF is a 21+ venue.
For VIP / Bottle Service, please contact: [email protected]
COVID-19 MASK MANDATE & ENTRY REQUIREMENTS UPDATE(S):
Until further notice, all persons entering Temple SF must wear a face mask at all times, regardless of vaccination status (masks may be removed when actively drinking). To gain entry to Temple SF, all guests must provide proof of full-vaccination against COVID-19, per city/county mandate.
Thank you for doing your part to keep our employees, guests and community safe & healthy.
TICKET PROCEEDS DONATION (@WHENTHEMUSICSTOPS):
Temple SF will be donating $1 from every ticket sold to 'When The Music Stops'.
When The Music Stops is a community of music lovers that support mental health and suicide prevention through education, music, connection, and love. Their focus for 2022 is to continue growing, while building supportive communities that further their mission and help prevent suicide.
Follow: @whenthemusicstops | Donate via Venmo: @whenthemusicstops