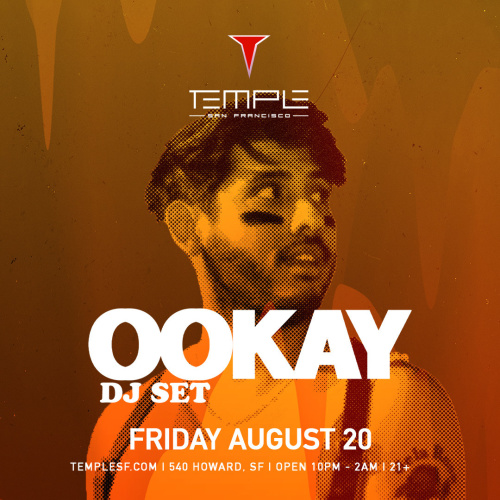 Temple Nightclub
540 Howard StreetSan Francisco CA, 94105
Get Directions
Friday, Aug 20, 2021 @ 10:00pm
Ookay
Event Description
San Diego's Abraham Laguna, aka Ookay, is a prolific DJ and producer known for his house music and trap-style productions, including the 2016 hit "Thief" and the 2017 Marshmello/Noah Cyrus collaboration "Stay Forever." After five years of consistent singles and EPs, Ookay made his full-length debut with 2018's Wow! Cool Album!
A native of Chula Vista, California, Laguna began producing electronic dance tracks in his early twenties while attending community college. Initially going under the name Leisure, Laguna gained an audience for his creative, high-energy brand of house music. As his career took off, he transitioned into more of a trap-oriented style and adopted the new stage name of Ookay. As Ookay, he has garnered attention on Beatport and elsewhere for his remixes of cuts by Congorock, Steve Aoki, Chris Lake, Tony Junior, and others. He also teamed with Diplo for a reworking of Avicii's "You Make Me Okay" in 2014. That same year, he collaborated on the single "Bouncer" with Dutch duo Showtek and released his debut EP, Ghost, via Steve Aoki's Dim Mak Records.
Along with his work as Ookay, Laguna has also released tracks under the name Coaster that showcase his love of tech and deep house. However, with his in-demand live appearances and robust social media following, Ookay remains Laguna's main focus. Ookay's 2016 single "Thief" proved to be a breakout hit, reaching number 27 on Billboard's Dance/Electronic Digital Songs chart and earning millions of digital streams. He followed up in October of that year with his second EP, Cocoon. Collaborating with Marshmello and Noah Cyrus on the Valentine's Day single "Stay Forever," Laguna notched another hit in early 2017. "Lighthouse," a collaboration with U.K. singer/songwriter Fox Stevenson, arrived in September via the Monstercat label and, finally, in May 2018 Ookay released his first full-length, Wow! Cool Album!
Temple SF is a 21+ Venue
For VIP Tables & Bottle Service, contact: [email protected]