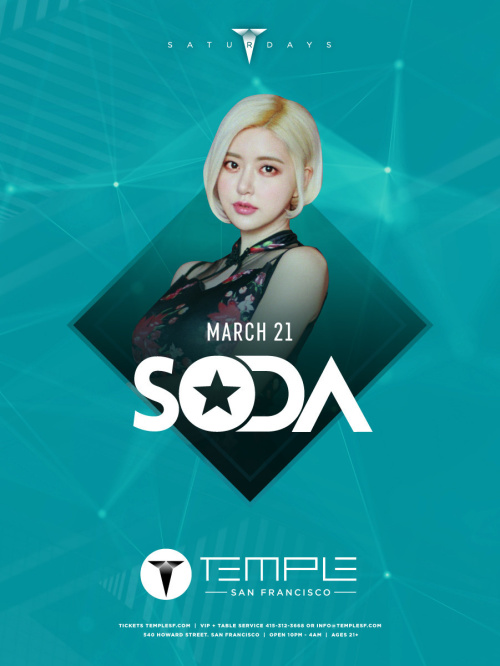 Temple Nightclub
540 Howard StreetSan Francisco CA, 94105
Get Directions
Saturday, Mar 21, 2020
DJ Soda
Event Description
Temple Presents Soda
South Korean DJ, SODA embarked on her journey to become a world star DJ in 2013, shortly after giving up musical acting to focus all her efforts into DJing. She has been a loyal fan of Hip-Hop ever since she heard 'Eastside LB' by the Twinz, as a child. Her obsession with Hip-Hop wasn't only about the music, but also about the culture surrounding Nike Jordan's and street fashion.
SODA's background in stage performances aided her development of her signature stage move, the 'Flute Dance', which instantly went viral and accumulated millions of views on Youtube, Facebook, and other social media. Utilizing her adorable and charming appearance, SODA has a stable modelling career which funded her beginning as a DJ. She was a face of for a variety of global brands such as Bourjois, Pringles, Nike, Maxim, and etc.
SODA, as a DJ, is capable of mesmerizing audiences unfamiliar with Hip-Hop, by mixing in tracks of other genres. She constantly communicates and energizes the audience with her enigmatic personality. Soda truly understands the art of DJing. SODA's colorful journey as a bright, energetic and curious person, has come together, and can proudly say, 'She is the complete package'.
LVL55 music by TBA
Contact us at 415.312.3668 or [email protected] for reservations.
This is a 21+ event.