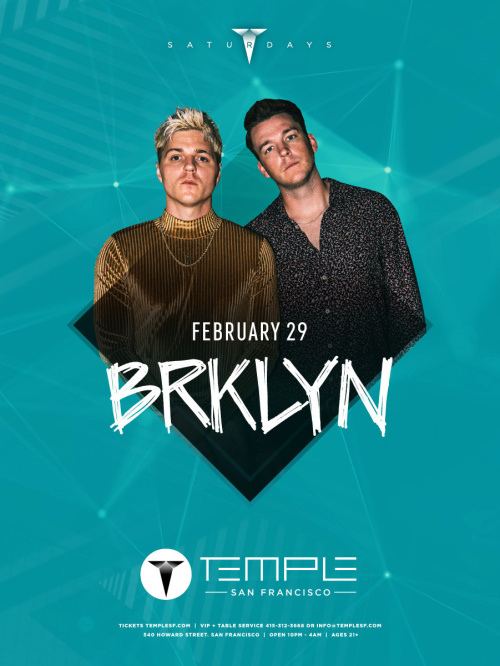 Temple Nightclub
540 Howard StreetSan Francisco CA, 94105
Get Directions
Saturday, Feb 29, 2020
BRKLYN
Event Description
Temple Presents BRKLYN
Cody Nadeau & Cameron Trowbridge comprise BRKLYN, the Orange County, CA based DJ/Producer duo recognized for their unique blend of electronic & alternative music. BRKLYN's latest single, Can't Take My Money, marks not only their debut on Armada Music, but their most personal, ambitious, and creatively adventurous project to-date. On Can't Take My Money, BRKLYN reaches into their arsenal of songwriting, production, and vocal talent to create a record that asks the simple question: since we can't take our money to the afterlife, how should we spend it while we're here? With additional writing and production from RVRB and Niko The Kid, Can't Take My Money tastefully enmeshes elements of BRKLYN's emo past, with their progressive dance flare. Can't Take My Money arrives on the heels of BRKLYN's recent remixes for Armin Van Buuren's Phone Down, and Audien's Favorite sound, both of which remain in rotation on Sirius' BPM.
LVL55 music Fabes
Contact us at 415.312.3668 or [email protected] for VIP Table Reservations.

This is a 21+ event.