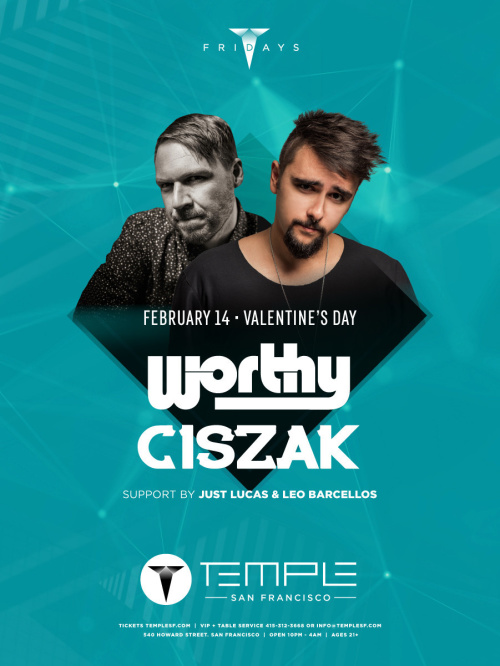 Temple Nightclub
540 Howard StreetSan Francisco CA, 94105
Get Directions
Friday, Feb 14, 2020
Worthy & Ciszak
Event Description
Temple Nightclub Presents Worthy & Ciszak
When it comes down to hype, his name says it all. He is Worthy. With an in-depth knowledge of production, mixing and performance, Worthy plays for his audience, paying reverence to classic house while sinking into the euphoric territories of booty-clapping bass. As Carl Cox said, "The Worthy sound has always been powerful, rocking, funky, bass-driven music at its best and for me this is the new wave in house music." Worthy cut his teeth playing techno, breaks, hiphop & drum n' bass in NYC. In San Fran, he teamed up with Claude Von Stroke as 1 of the 4 founders of Dirtybird. 'Irst Te' on Dirtybird established him as a producer & Worthy has rocked the "Dirtybird" sound for 12 years. 
Hailing from Brazil, Ciszak represents the new breed of house and tech-house producers. Starting as a young musician and developing to a full-time producer and DJ, Ciszak kicked off his career with a release on 303Lovers and Go Deeva. The impact was felt immediately, with both releases reaching the top of the tech-house charts on Beatport. From there, Ciszak caught the ear of one of dance music's biggest artists, Claude Vonstroke.
Support by Just Lucas & Leo Barcelos
LVL55 Music by Double B
Contact us at 415.312.3668 or [email protected] for VIP Table Reservations.
This is a 21+ event.