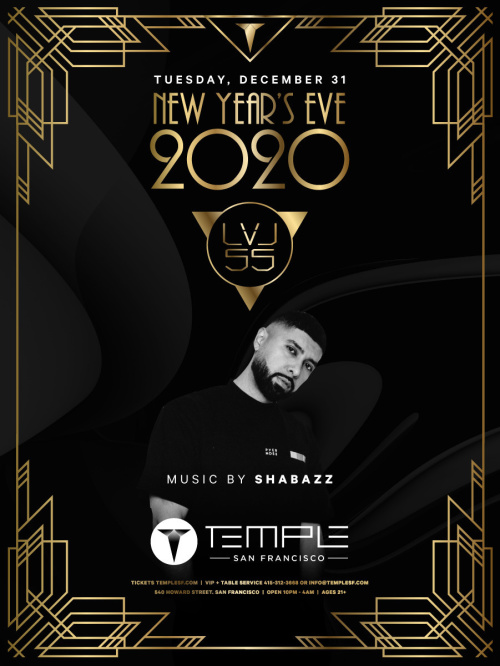 Temple Nightclub
540 Howard StreetSan Francisco CA, 94105
Get Directions
Tuesday, Dec 31, 2019
NYE at LVL55 featuring DJ Shabazz
Event Description
NYE 2020 at LVL55
Music by DJ Shabazz
Shabazz is one of the most dynamic and distinguished Dj's in the Bay area and West Coast. His  career commenced at an early age DJing night clubs, concerts and other  events. In order to further his craft and feed his passions he moved to  New York City, where he was exposed to New York's culture(music, fashion  and nightlife.) He began working in the A&R department of jive  records and had the opportunity to DJ many events were fashion met  music. This allowed Shabazz to further develop his love for fashion and  connect the two worlds he knew best. After his time in New York City, He  decided to move to Atlanta where he began working with Akon's label, Konvict Music, DJing for the artist Dolla, who had the hit song "Who the F is that" featuring T-Pain.  Shabazz has a dexterity for recognizing whats distinct and  contemporary. He is at the forefront of music, fashion, lifestyle, and culture.
Support by Fabes
Contact us at 415.312.3668 or [email protected] for reservations.
This is a 21+ event.