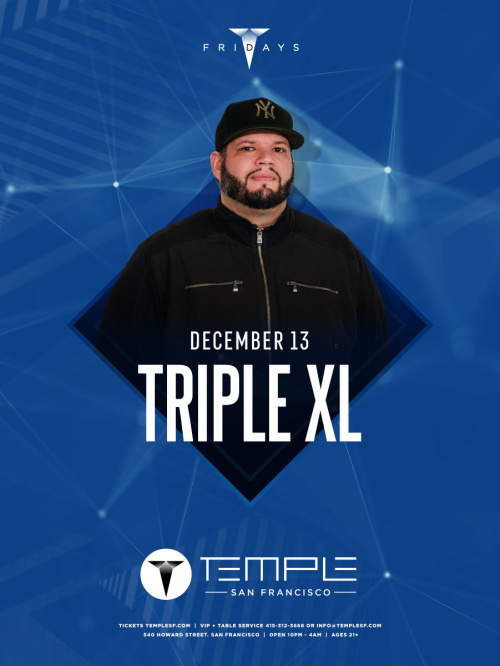 Temple Nightclub
540 Howard StreetSan Francisco CA, 94105
Get Directions
Friday, Dec 13, 2019
Triple XL
Event Description
Temple Presents DJ Triple XL
Originally hailing from the city that founded "Grunge Music", DJ Triple XL decided banging your head and thrashing into people wasn't for him and fell in love with hip hop and house music instead. With his passion for music and fondness of night life, it was only natural for Him to start DJing. After a year of sleepless days and nights, he perfected his craft and most importantly, built up his vinyl collection enough to start DJing at local clubs. Straight out of high school he quickly made a name for himself in the "Night Life Scene". Within the year he was asked to mix on the #1 radio station in Seattle, KUBE 93, and soon became an on-air personality. Best known for his "quick mix", DJ Triple XL was able to take crates of records and quickly cut in and out of songs creating a new sound for his listening audience. Always inspiring, DJ Triple XL challenged his listeners by pushing the limits! and breaking new artists. People loved it and his time slot became #1 and stayed for many years.
LVL55 music TBA
Contact us at 415.312.3668 or [email protected] for VIP Table Reservations.
This is a 21+ event.