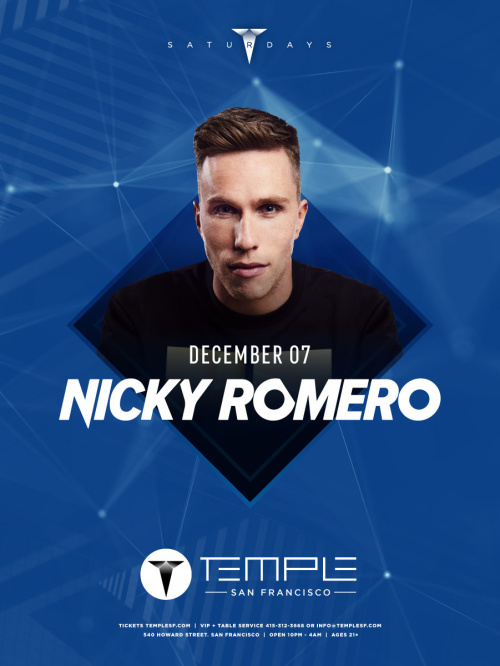 Temple Nightclub
540 Howard StreetSan Francisco CA, 94105
Get Directions
Saturday, Dec 7, 2019
Nicky Romero
Event Description
Temple Presents Nicky Romero
Nicky Romero has progressed from being a young, musical wunderkind to become one of the most influential artists of his time. As a DJ, producer and mogul whose label is at the forefront of modern electronic dance music, it goes without saying that Nicky is a force to be reckoned with. From the iconic hits "Toulouse" and "I Could Be the One" to his recent "PRTCL," Nicky's resume boasts an impressive and lengthy discography of originals, remixes, edits and co-productions, proving again and again his ability to evolve with the ever-changing landscape of electronic music. Perhaps even more telling of his razor-sharp prowess and visionary mindset is the success and impact of his label Protocol Recordings. From the stage to the studio and beyond, Nicky is leaving a lasting imprint on electronic music.
In the late 2000's, EDM was having its heyday, and Nicky Romero was at the forefront of the movement that would become one of the most significant cultural resurgences in decades. After releasing several singles early in his career, Nicky officially had his breakthrough moments with the viral anthem "Toulouse" and "I Could Be the One" (vs. Avicii), which to date has amassed over 185 million streams on Spotify alone. Nicky's meticulous skill as a producer led him to co-producing with legendary artists, both on Rihanna's hit "Right Now" and Britney Spears' "It Should Be Easy." These early successes served to pave the way for the founding of Nicky's own label, Protocol Recordings.
LVL55 music by Romeo Reyes
Contact us at 415.312.3668 or [email protected] for reservations.
This is a 21+ event.