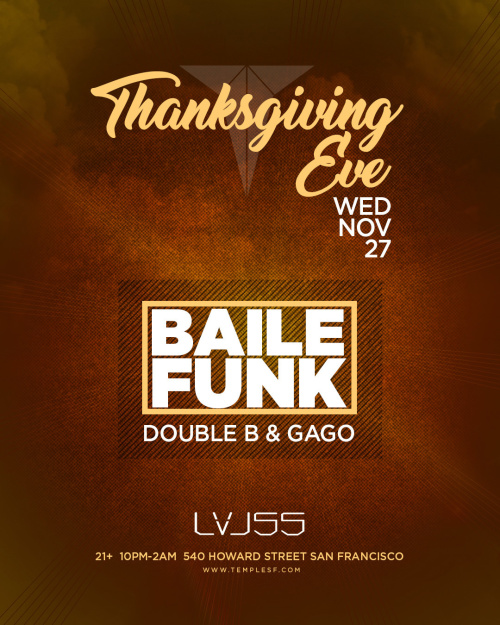 Temple Nightclub
540 Howard StreetSan Francisco CA, 94105
Get Directions
Wednesday, Nov 27, 2019
Baile Funk at LVL55
Event Description
Temple Nightclub Presents Baile Funk at LVL55
Music by Double B & Gago
Funk carioca, also known as favela funk and, in other parts in the world, baile funk, is a hip hop style from Rio de Janeiro, derived from Miami bass and gangsta rap music. "Baile funk", in Brazil, refers not to the music, but to the actual parties or discotheques in which the music is played. Although originated in Rio, funk carioca has become increasingly popular amongst people in other parts of Brazil. In the whole country, funk carioca is most often simply known as funk, although it is very different musically from what funk means in most other places.
About LVL55
Situated directly beneath the main room is LVL 55, Temple's futuristic lower level. Complete with fifteen VIP tables, a custom-made DJ booth, and low hanging ceilings, LVL 55 elicits an alternative atmosphere for guests who prefer to venture away from the main room sound.
Entering LVL 55, guests will encounter custom-made LED lights emanating from columns throughout, accompanied with the thundering sound of our Void sound system. For guests looking for a more intimate nightlife experience, LVL 55 is the ideal venue.
Contact us at 415.312.3668 or [email protected] for VIP Table Reservations.