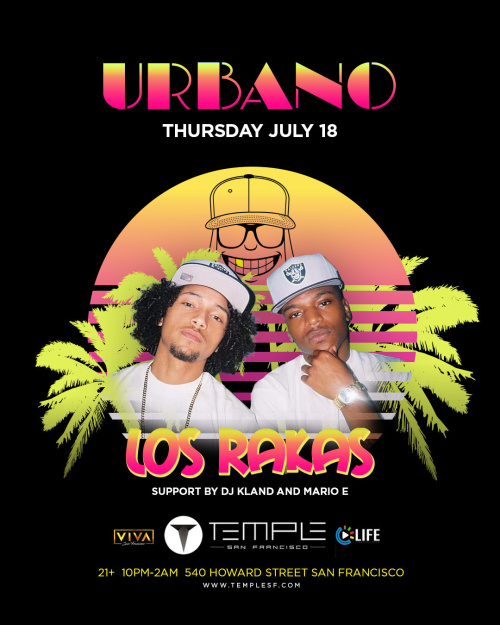 Temple Nightclub
540 Howard StreetSan Francisco CA, 94105
Get Directions
Thursday, Jul 18, 2019
URBANO feat Los Rakas
Event Description
Temple is excited to present a new monthly event URBANO!
Join us for this Latin themed party launching Thursday, July 18th with featuring Los Rakas
Temple San Francisco is about to get muy Caliente! Come dance to the best urban Latin music, DJs and performers in the Bay area.
The Grammy-nominated group, Los Rakas was born in the youth centers of Oakland, CA in 2006.  This duo is of Panamanian descent and raised in both cultures.  They are the future of world music and have trendsetting their way into the mainstream, touring nationwide and internationally.  Performing in both English and Spanish, their specialty is that they teach Spanish through their music- no more Rosetta Stone is needed!!  Los Rakas are known for rocking any party - from youth events to worldwide festivals, they hype the crowd and get the party all the way live!   What is a Raka?  a person who is proud of who they are.   The Rakas are making sure that the voice of the pueblo is heard, their unique sound bridges cultures from all over the world.  Listen to them here, listen to them on the news, on the radio, the television, in movies, hear them in your favorite video game, read about them in the paper or online - AND be sure to catch them at a live show...  Raka Party...Tequila specials each night + discounted packages with Avion Tequila & Bottle Service.
Music by DJ Klan & Mario E
Hosted by VIVA SF and Life SF
Contact us at 415.312.3668 or [email protected] for VIP Table Reservations.
This is a 21+ event