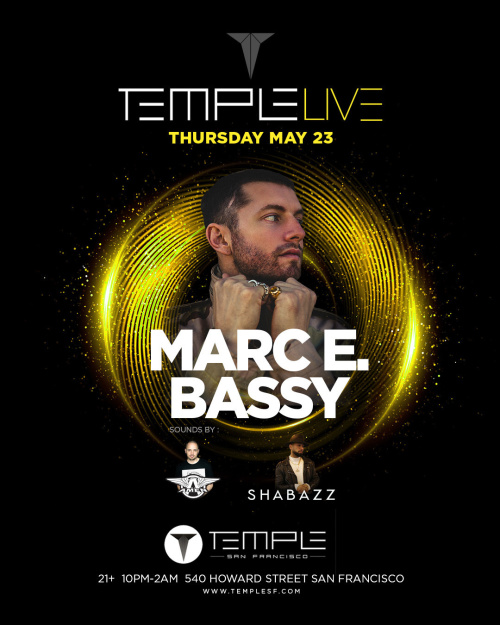 Temple Nightclub
540 Howard StreetSan Francisco CA, 94105
Get Directions
Thursday, May 23, 2019
Temple Live ft Marc E Bassy - Memorial Day Weekend
Event Description
Temple Live feat. Marc E. Bassy
Marc E. Bassy is the contemporary R&B and rap alias of San Francisco-born artist Marc Griffin. The singer and songwriter was previously a member of 2AM Club, a band that released an album in 2010 on the RCA label and split a few years later. Compromised creatively by his time in the band, Griffinapproached the next phase of his career in an informal, less measured fashioned. He adopted Marc E. Bassy as his performing name -- Count Bassy was a moniker of Alex Rau, an associate -- and uploaded tracks to his SoundCloud page. In 2014, he released the single "Relapse" (featuring Iamsu!) and the mixtape Only the Poets through EO Entertainment. Signed to Universal Music Group division Republic, he issued an EP, East Hollywood, in 2015. The nine-track release featured appearances from Ty Dolla $ign, G-Eazy, Bobby Brackins, and P-Lo. In 2016, Bassy delivered his sophomore EP, Groovy People, which included the single "You & Me," featuring G-Eazy. The following year, he returned with "Plot Twist," a single featuring rapper Kyle, and in 2017 he issued his full-length debut, Gossip Columns.
Music by DJ Amen and Shabazz
Support by Mario E
This is a 21+ event.
Contact us at 415.312.3668 or [email protected] for reservations.