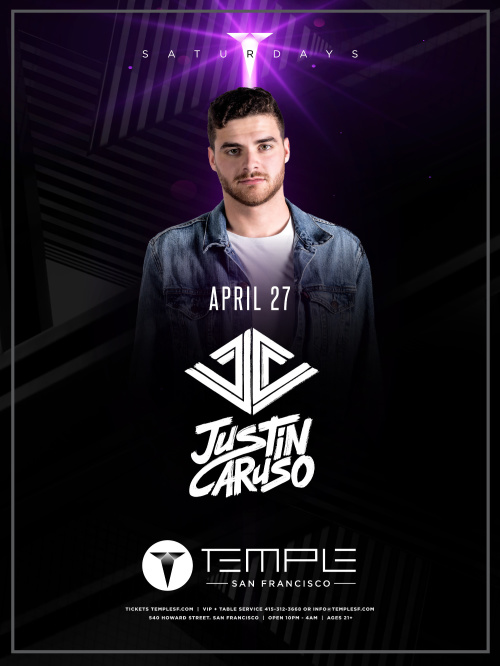 Temple Nightclub
540 Howard StreetSan Francisco CA, 94105
Get Directions
Saturday, Apr 27, 2019
Justin Caruso
Event Description
Temple Presents Justin Caruso
Justin Caruso is not your average college kid with musical taste turned producer. He is an LA native whose dreams of becoming a basketball player were deflated due to an injury, which unintentionally catapulted him to discover a dormant talent in music. Not even a decade into his career, Justin Caruso, a junior in USC's Thornton School of Music, has garnered praise and recognition from music industry leaders such as The Chainsmokers and 3LAU, allowing him to work with some of the best of the industry and remix the hottest singles. With over 20 million streams online, Justin is now starting on his debut original tracks, the first being a collaboration with 3LAU, the most played electronic artist on radio. He also recently finished a fall tour with 3LAU, hitting over 20 dates including New York, LA, and Miami. Justin has proven himself early on in his career and with all that is to come he is destined to become one of the top players in the business of electronic music.
Support by Lukas Felt
LVL55 Music Amen & Shabazz
Contact us at 415.312.3668 or [email protected] for reservations.
This is a 21+ event.