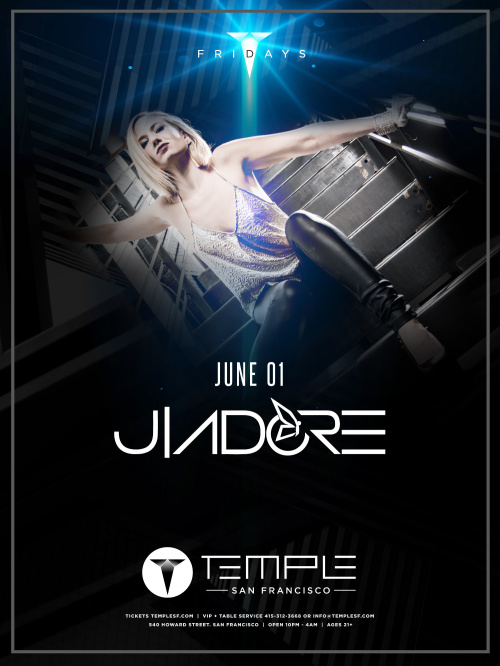 Temple Nightclub
540 Howard StreetSan Francisco CA, 94105
Get Directions
Friday, Jun 1, 2018
JAdore
Event Description
Temple Presents JAdore
"J'Adore." To the French, it means to adore or to love something. J|Adore inspires the concept of adoring your life through a musical soundtrack. As a musician, it's her pursuit to make people get their booty on the floor and dance.
J|Adore pushes societies limits on femininity - sassy and sweet in her image and personality yet throwing down dark, dirty beats behind the table. Whether it's her own work or a track from another artist, she's drawn to a futuristic, unexpected dark and atmospheric feel. Catch J|Adore live and listeners experience a deep feel brought to a big room stage and an unparalleled energetic performance.
Some of J|Adore's favorite moments behind the decks have been sharing the stage with live acts such as Morcheeba, Nadia Ali, Jay Tripwire, Kate Elsworth, Rebecca & Fiona, EC Twins, Ecotek, dEV, LMFAO's Sky Blu, DJ Lindsay Luv, Lady Starlight, spinning for Denver Fashion Weekend and for thousands of people during a yoga class at Red Rocks Amphitheatre.
As of recent, she's assisted in shaking up the social scene holding down the hottest residencies. On the verge of releasing her own unique sound to the world, J|Adore continues to emerge from the Denver scene to hot spots around the globe. Most notable to date, J|Adore landed a spot on the Decadence NYE lineup. When she's not performing, you'll find J|Adore in the studio gearing up for the releases of her new dynamic self-produced tracks.
Unlike most, J|Adore approaches her sets with a sound style rather than a format allowing her to cross genres and to wow audiences with the unexpected. This same mindset carries over through every aspect including her productions. Whether she's focusing in the studio or adrenalizing a dancefloor, J|Adore is known for flawlessly creating a strong experiential vibe that delivers for the occasion.
LVL55 music to be announced
Contact us at 415.312.3668 or [email protected] for reservations.
This is a 21+ event.