Back to DJs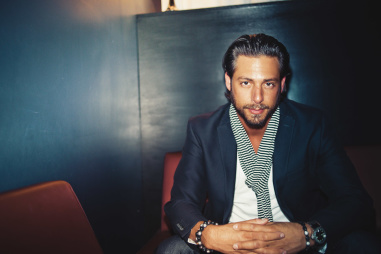 Detroit has a new ambassador in CAPTN20 - born & raised of Lebanese descent - Nick Haddad became a household name and staple back in the early 2000's in the Detroit club circuit. Building his early following in the infamous warehouses and underground venues of Detroit Techno, CAPTN20 would eventually call on his childhood musical influences [Africa Bambaataa, Soul Sonic Force, "The Wizard" Jeff Mills, and the futuristic sounds of Kraftwerk] to get "out of the basement" and weave them with the depths of his underground sound, moving him to the frontline of the club scene. He has over 15 years behind the decks, DJing everything from festivals to celebrity events, and continues to elevate his style and sound, while constantly evolving and pushing conventional limits.

Given CAPTN20's strong following, tireless energy, and acute business sense, he was tapped as resident DJ, Music Director and Talent Buyer for MGM Grand's V Nightclub in 2009. This ended up being an 8-year term that would only end when the club closed its doors in January of 2017. He also has been voted "Detroit's Best Club DJ" for most of the last decade, and in 2012, Billboard added him to their exclusive Dance Chart panel of reporting DJs, influencing the hottest dance tracks in the country every week. CAPTN has pushed the envelope for nightlife in Detroit, performing with some of the biggest names in the business including The Chainsmokers, Tiesto, Flo Rida, and the legendary DJ AM. He's also performed for the likes of Diddy, Miley Cyrus, Lil Jon, Hugh Jackman, Jennifer Lopez, Macklemore and more.

SKAM Artist [agency] signed CAPTN20 in 2013, regularly booking him to deliver his unique and energetic style at some of the hottest clubs in Las Vegas, Miami, Hollywood, San Francisco, Atlantic City, Chicago, as well as Mexico, the Caribbean and as far out as the Middle East. Whether he lands in a deep house room, a hip-hop club, or a fashion event in NYC, CAPTN20 has the ability to read a room and adapt, bringing his energy naturally into the crowd. "I've never stepped into a room [to DJ] and end up playing what I think I'm gonna play. It keeps me sharp and on my toes, and I think it keeps people wanting more when I'm done," he explains.

Beneath the "tall, dark, and handsome" exterior of CAPTN20, lies a fun-loving kid from the streets of Detroit, who still craves the rush of hitting 200mph at the ¼ mile. He brings that passion and adrenaline into every venue he lands in, passing out hugs and high fives to everyone from security, bartenders, owners and patrons alike. It's impossible to mistake the love people have for him, and the genuine spirit he repays them with. Like his hometown, it's a spirit that never gives up, never quits, and will never let you down.

Global brands such as Pepsi, Redbull, NASCAR, Don Julio, Ciroc, Ford Motor Company, Lexus Automotive and ESPN have all called upon CAPTN20 for their events.