Back to DJs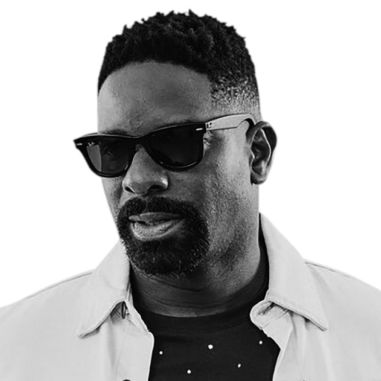 DJ IRIE: THE SURREAL LIFE

Take for example the night DJ Irie was spinning at Robert Downey Jr.'s private birthday bash held at Downey's Malibu mansion. As the story goes, party host Jamie Foxx was on the mic while Irie had a crowd of Hollywood elites—Jodi Foster, Tobey Maguire, Samuel L. Jackson, etc, etc—partying to a remix of Sting and Police's classic hit Roxanne. Sometime during the mix, Sting (Yes, that Sting!!) grabbed the mic and started singing along. "I was thinking, wow is this really happening," recalls Irie. "I couldn't believe that the same music-loving boy from Miami was actually spinning while Sting rocked out to his mix."

That same young boy was actually born in St. Croix of the Virgin Islands and raised in Miami. Ironically it was his stay on another Caribbean Island that set in motion what would become his career. While attending a private boarding school in Jamaica, the ever technically inclined Irie rigged up some speakers, borrowed his roommate's—future multi-platinum reggae artist Sean Paul's—Casio, wired his own system, then commenced to spending all his free time hunting for records (actual records too, not CDs) to play on his contraption. "I remember how happy I was to get that new hot record," Irie says, about those days. "I wasn't DJing for anyone else at the time, but I just had to have it." That love grew from a hobby when Irie moved back home to Miami. A few years later, he began spinning at local parties. Years of hard work and determination later have propelled Irie past the level of hotshot DJ to his position as an immovable staple of Miami's world-renowned party scene.

These days Irie, who has the number one mix-show on Miami's WEDR 99 JAMZ is known (The Miami Herald and Miami Tribune are among those who say so) as Miami's number one DJ, and while he is no doubt a skilled turntable maestro, a large part of what makes him great is less tangible. "I sense the (crowd's) vibe is going in a certain direction then that's what dictates what the music is going to be," he says. "It could be anything. It might be house or classics or Latin or hip hop to start the journey. And then once the journey starts, it's about continuing on that vibe and going where that vibe takes us. To me that's what DJing is all about."

That perspective has also made Irie, known for his immense energy, an almost ubiquitous presence in what some call the champagne life. Catch him on the tables at NBA All Star Weekend, VH1 Pepsi Superbowl Fan Jam, Fortune Magazine's 40 Under 40, huge jet-setting events in countries including Germany, Switzerland, Austria, or in the Bahamas & St. Marten where he travels fifteen times a year to helm music at their hottest events and clubs. It can almost be said if you haven't experienced a DJ Irie party then you're not attending the right kind of parties. Oh yeah, besides the events, there's that other gig of his, spinning as the official DJ for the Miami Heat. This job brings us to the next surreal moment.

SURREAL

The Miami Heat (D-Wade, Shaquille O'Neal, those Heat) had just beaten the Dallas Mavericks for the 2006 NBA champion. Irie was in attendance and hanging near the team's locker room when Heat legend Alonzo Mourning pulled him into inside to join the celebration. "I was in there popping bottles and celebrating with them," Irie recalls. "This was something I'd seen as a kid on TV. I never thought I'd be part of a world championship celebration. I never a million years thought I'd get an NBA championship ring. I look back and say wow that all happened because I followed my passion of music."

Irie's passion has also lead to success in many entrepreneurial ventures. He has built a flourishing consulting firm: Artist Related, which includes a roster of some of Miami's hottest DJs not named Irie: DJ Erok, Jessica Who, and DJ Sandman. Irie has also built himself into a brand that collaborates with other well known brands including Adidas, Creative Recreation, Specialty Automotive Treatments, and Levinson Jewelers. Most recently, the man who has been featured all over (Late Night With Conan O'brian, CBS "The Early Show," Good Morning America, the E! channel, MTV, as well as in publications including USA Today, Us Weekly and ESPN the Magazine), was handpicked by New Era to serve as one of their Flag Bearer brand ambassadors and inked ventures with Heineken, and Verizon Wireless.

But what would all the business success amount to without Irie using his good fortune to help a greater cause? Irie has become an enthusiastic philanthropist, efforts highlighted by Irie Weekend, an event-filled collection of events, which benefitted the Big Brothers Big Sisters of Greater Miami. Irie Weekend will continue, but going forward will benefit Irie Foundation, Irie's newly formed philanthropic organization with a mission of supporting the health and social needs of children in South Florida. Irie will continue to spread his charitable works among organizations such as the Make a Wish Foundation, The Special Olympics and the respective foundations of friends like Dwayne Wade and Alonzo Morning.

DJ, brand, entertainer, philanthropist, Irie is humongous yes, but he hasn't forgotten what's got him to this point, which is why no matter where in the world you catch him, it is sure to be an experience. "If I'm not leaving everything on those turntables during my performance then I'm selling myself short. And that means the crowd didn't get everything I had to give and will leave with a perception of me that's really not accurate," he says. "I never want that to happen, so I do it every time like it's my last time."

SURREAL

For Irie, the list of surreal moments goes on, but best to do what's necessary to enjoy an Irie-spun experience and claim the next surreal moment as your own.